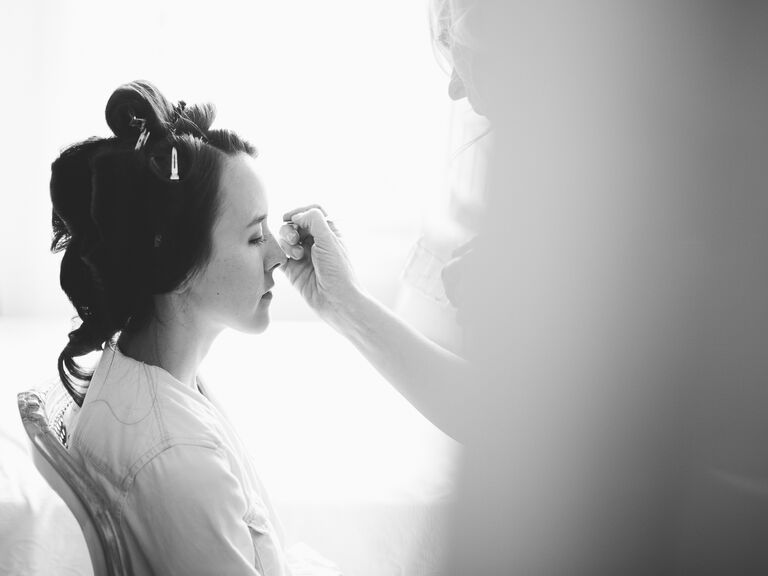 Let's face it – whether you're the bride (congrats!), a bridesmaid, or a guest, there are so many details to keep track of during wedding season that a last minute beauty plan is essential.  We all want to look and feel our best, and we're here to tell you it doesn't take months of preparation to achieve a flawless wedding look.  Read our easy prep steps below that you can do the day before, or even the day of!
Skin. We all know that healthy skin and an even skin tone starts with good sleep and eating healthy, and we're all for those things, but what if you don't have time for that because the wedding is five days away?  Enter the spray tan (not the tanning bed – those are cancer boxes).  A sun kissed glow makes everyone look good – if you do nothing else on the list but this, you're going to be ahead of the game.  An even tan and balanced skin tone will have everyone commenting on how healthy and radiant you look.  Weary that a custom spray tan will leave you orange?  Try out a bottle of gradual-glow lotion that you can control and apply in the weeks leading up to the event.  A couple favorites: Tarte Brazillance Bronzer ($39, comes with a custom application mitt) and the old standby Jergens Natural Glow ($9.99).
Brows. The next biggest game-changer are your face framers.  If you're a regular at the brow bar, you may skip ahead.  But if you've never had your brows shaped, or you don't know where to begin with filling them in, now's a great time to start practicing!  For absolute newbies, simply combing through your brows with a spoolie and setting them with clear or tinted brow gel will do wonders by framing your face and polishing your look.  Got patchy or thin brows?  Hit up a brow pencil like Anastasia Beverly Hills' Brow Wiz ($21) and fill in where needed.  Be sure to comb through with a spoolie to even out the product!
Mani/pedi. A half-peeled off manicure (while real life) is not wedding appropriate.  If you don't have time to go to the nail salon or try out a DIY mani, just be sure to remove the old polish and quickly slap on a clear top coat to look pulled-together.  If you're wearing open-toed shoes, a color on the toes is fun and festive!
Hair trim + color touch up. No time for both?  No problem!  An updo or curled hairstyle will camouflage split ends, so scratch a trim off your to-do list.  Visible root growth will be noticeable in photos though, so get a color touch-up if there's time.  No time?  Use a root touch-up to cover any growth the day of; our favorite is Color Wow Root Cover Up ($34.50)
Drink water! This is easy, because water is free.  Staying hydrated will not only help with the day after a rockin' wedding reception, it will hydrate your body and skin so all of the above steps apply easier with the best results.   Also: steer clear of salty food a couple days before the wedding, as salt can make the eyes appear swollen.
Pack a beauty bag. Packing a beauty kit for the wedding can be a lifesaver for you and any new friends you make in the bathroom.  Our must-haves that fit in a slim clutch: lipstick and gloss, concealer, blotting papers, breath mints, Advil, bobby pins, Band-Aids and tissues.  Bonus items if you have extra space: deodorant, baby powder, a mini can of hair spray, Q-tips, and flats.
Smile. Our moms were right when they told us a smile is your best accessory!  Even if you skip every step above and arrive to the wedding as the bride is walking down the aisle, you can bust out your smile – a genuine smile always looks good in photos!
{photos from theknot.com and backyardgrove.com, respectively}
Save
Save